Dappnode HOME x LUKSO, the ultimate solution for blockchain node hosting and management
Dappnode HOME x LUKSO is more than just a product; it's a gateway to the future of blockchain technology. Embrace the power of decentralization, simplify your node hosting, and become a part of a thriving community that values autonomy and security. Discover Dappnode HOME x LUKSO and take your first step into the decentralized future.
Solo-Staking on LUKSO and many other Blockchains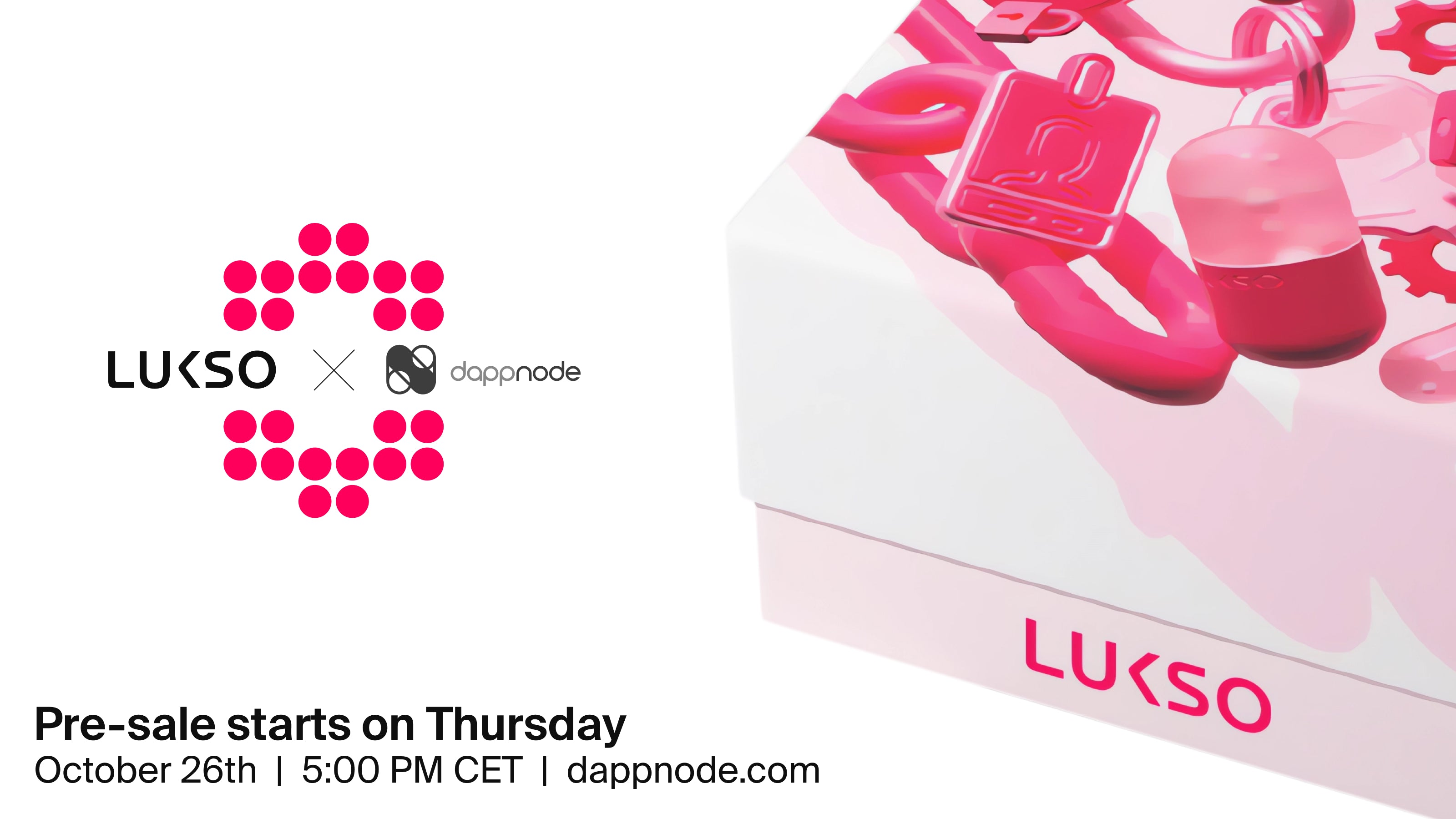 Key Features
Dappnode and LUKSO have joined forces to bring you a revolutionary product that redefines how you interact with the blockchain. It comes with 4 LUKSO validators

Simplified Node Hosting: Dappnode HOME x LUKSO makes it easier than ever to host and manage blockchain nodes.

Multi-Chain Support: Dappnode HOME x LUKSO supports a wide range of blockchain networks, including Ethereum, LUKSO, and many more. You can effortlessly switch between chains and explore the full potential of the decentralized ecosystem.

Automatic Updates: Keep your nodes up to date with our automated update system. No more manual interventions, and no more worries about missing critical upgrades.

User-Friendly Interface: We've designed a user interface that is both elegant and easy to use. Navigating the blockchain world has never been this straightforward.

Community and Support: Join a vibrant community of blockchain enthusiasts and gain access to expert support.


IMPORTANT SHIPPING INFORMATION FOR LATAM AND TURKEY USERS

We would like to remind you that before placing an order for these destinations, please be sure that you will be responsible for any taxes and customs duties imposed by your country. Unfortunately, this information is not available to us prior to shipment, so we are unable to provide specific details.

Please note that in case of REJECTION of these customs duties, we will not be able to reroute or return the goods to the factory, and they will be destroyed. To avoid any inconvenience, we strongly recommend that you check the applicable taxes and duties in your region before making a purchase.

Your machine's hardware:
All machines come with Dappnode Core preinstalled, ready to run.
Also included in the box:
If you have an internet connection, access to your router and a device with wifi capability (like your laptop or phone), your purchase should have everything you need to start running your Home.