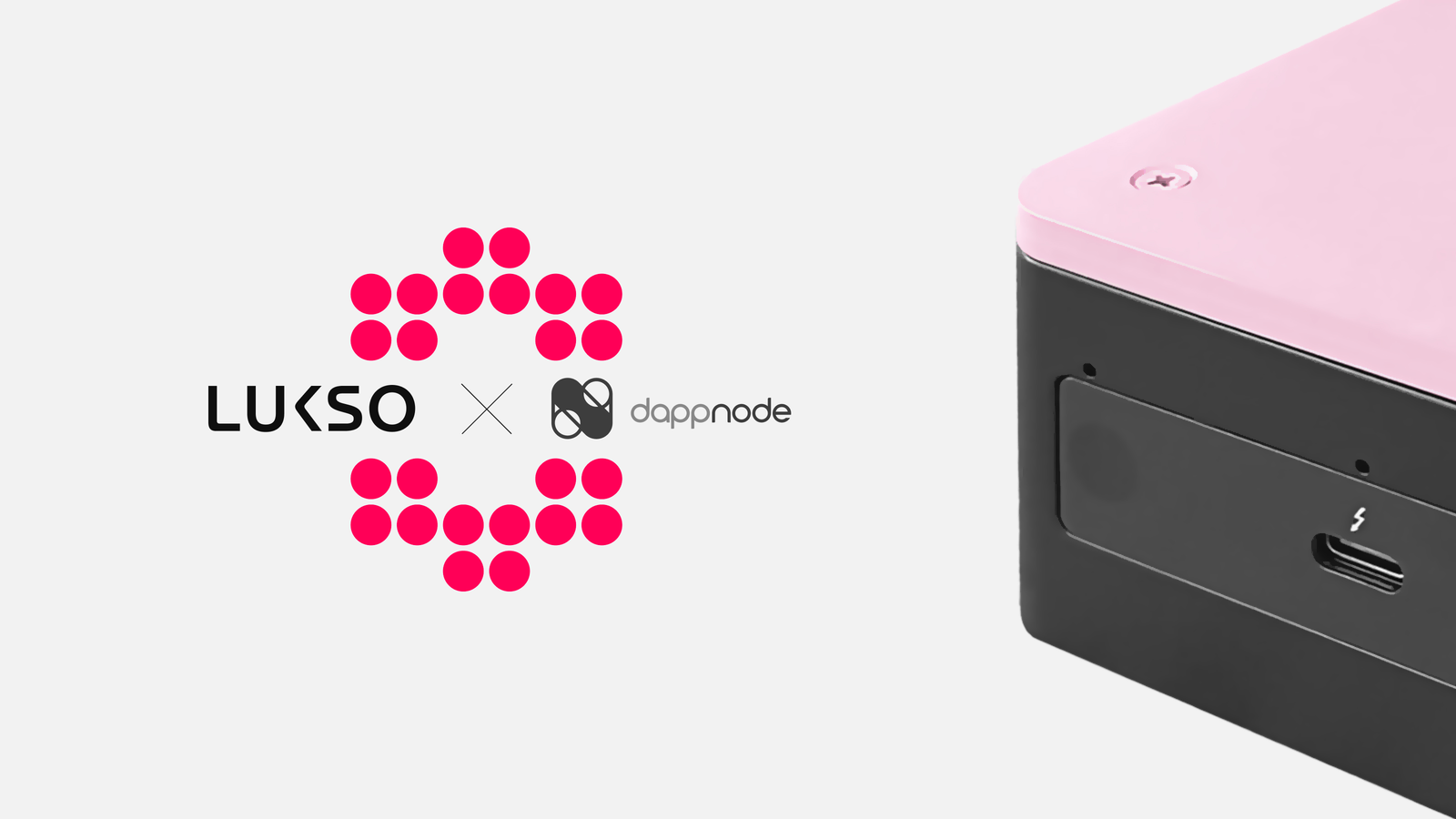 In the ever-evolving landscape of blockchain technology, strategic partnerships and collaborations open doors to innovative possibilities. Dappnode and LUKSO have joined forces to bring forth a blindingly beautiful hardware solution, packing as much power as beauty.
Dappnode Home X LUKSO: Four Free LUKSO Validators!
Dappnode and LUKSO have forged a deep-seated partnership for usability and decentralization, culminating in a cutting-edge hardware solution, the Dappnode Home X LUKSO. This exceptional product includes not one, not two, but four (4!) LUKSO validators, providing users with a total of 128 LYX tokens—at a current value of over 760 USD!
Get your Dappnode Home x LUKSO here
Exploring the Creative Universe of LUKSO
Let's appreciate what sets LUKSO apart from the rest: LUKSO is more than just another blockchain; it's a visionary concept that extends beyond traditional technological boundaries.
This blockchain is dedicated to seamlessly infusing Ethereum's essence into the creative worlds of fashion, art, and design. LUKSO accomplishes this by offering a multi-layered ecosystem meticulously crafted to cater to the unique needs of these creative sectors.
To move beyond the current blockchain user base to the creative industries, the LUKSO team has put an extreme care to facilitate the usability and User Experience. Dappnode has been improving the UX of web3 infrastructure since 2018 and we couldn't be less than amazed at how LUKSO keeps pushing the frontiers.


Dappnode's Crucial Role in Securing LUKSO

Decentralization is the principle value of the blockchain technology, and Dappnode has played a pivotal role in democratizing this concept. By integrating LUKSO into the Dappnode ecosystem, users can effortlessly participate in securing the LUKSO network. Through LUKSO staking, users can actively contribute to the network's security by staking LYX tokens and operating a LUKSO validator.
Staking LUKSO with Dappnode Made Easy
For enthusiasts of home staking through Dappnode, the process is straightforward. Below, we outline the steps to begin LUKSO staking with Dappnode:


Ensure you have an execution client (e.g., Geth, with Erigon support coming soon).

Possess a consensus client.

Utilize Web3Signer to seamlessly integrate validator keystores into the consensus client.

Specify a fee recipient address.
Dappnode Home X LUKSO: A Limited Edition Masterpiece
It's important to note that the Dappnode Home X LUKSO is not only a technological marvel but also a limited edition. With only a limited number of units available, this hardware represents a rare opportunity for blockchain enthusiasts to own a piece of this creative collaboration.

Additionally, the hardware itself boasts a fully customized design featuring the distinctive LUKSO branding, making it a collector's item for both blockchain and design enthusiasts.

Get Your Dappnode Home X LUKSO

To embark on your LUKSO staking journey with Dappnode, visit our product page and secure your Dappnode Home X LUKSO now. Don't miss this chance to be part of a unique collaboration at the intersection of blockchain and creative innovation.